We were in Nairobi, at night time always in Riruta Satellite, at daytime often in Kibera, in Ndugu Mdogo. Cherimus was hosted by the NGO Amani, who works with street children, while running different rescue centres. We were there thanks to Marco Colombaioni's visionary  idea. He came here several times as a volunteer and wrote a project for an international program of art residences based in these centres, Darajart. In the Swahili language, Daraja means 'bridge'. He wanted to build a bridge for unlikely encounters between the art world and the pulsating life of Kibera in Nairobi, by inviting every year artists working with different media (music, writing, cinema and visual arts) to live and work in the largest slum of Sub-Saharan Africa.
We decided to put together the first Darajart pilot edition. This zero edition was meant to help us come into contact with the context and understand it better. We had just started to work there and we already had three projects.
The first one was a wall painting made on the facade of the centre. All the children hosted in Ndugu Mdogo contributed to its realisation. During a three-day workshop we asked them to draw their favourite objects on the wall and then to paint them. The wall got populated by an incredible number of fantasy inventions, which all together composed a puzzle of enormous animals, absurd signals and tiny unusual tangled characters, often overlapping with each other. You need to take your time to discover all the details hidden in this painting. The children realised their wall together with the artists: they had only left the street one month earlier, and now Ndugu Mdogo was their home, and the community their family. It was essential that they felt as the owner of their space. Above all, the wall is beautiful!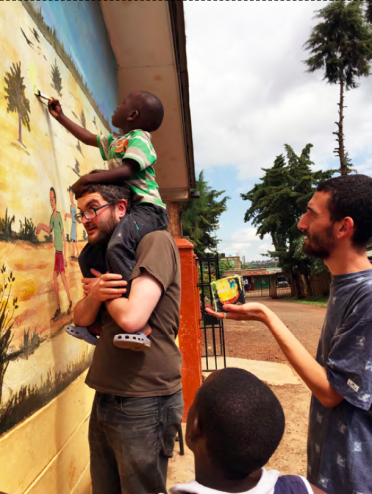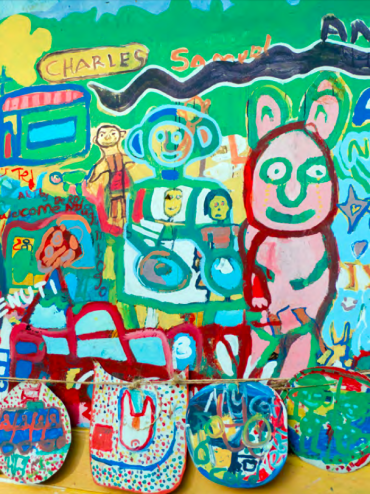 The second project we did with the children in Ndugu Mdogo was a sort of big Chinese dragon, made of 27 roundish metal panels (two of which were bigger than the others and represented the head). During a workshop, we asked the children to think about their dreams, about how they imagine themselves in the future. Each of them drew and painted their dreams on the metal panels. Then we went with the children to the famous train-rails of Kibera, where you can enjoy a unique perspective on the slum. There they set up the panels and held them up,showing their dreams to the slum. Once we were back in Ndugu Mdogo, we tied up all the boards together, hanging them from the facade that they had painted. When the children will leave Ndugu Mdogo, this Dragon will follow them to Kivuli, another center run by Amani.
The third project was Santu Jacu, a wooden sculpture of St James, the patron saint of Perdaxius, realized in collaboration with the Kenyan wood carver Charles Nshimiyimana.