LE ASSOCIAZIONI LIBERE (FREE ASSOCIATIONS)
at La maison rouge, October 20th 2012 – January 13th 2013
press preview Friday October 19th 2012, 9.30am – 11.30am
preview Friday October 19th 2012, 6pm – 9pm
A project by the Dena Foundation for Contemporary Art
Curators: Chiara Parisi and Nicola Setari
Artistic coordination: Francesca di Nardo
Exhibition design: Chirstian Frosi and Diego Perrone
FREE ASSOCIATIONS
Anonima Nuotatori, Vincenzo Schillaci e Giuseppe Buzzotta, Artribune, Massimo Grimaldi, Cherimus, Marco Colombaioni e Michele Gabriele, Codalunga, Nico Vascellari, Cripta 747, Mauro Vignando, Cura., Ian Tweedy, Gasconade, Andrea Romano, GiuseppeFrau Gallery, Eleonora Di Marino, Kaleidoscope, Andrea Sala e Tommaso Garner, Le Dictateur, Federico Pepe, Lucie Fontaine, Daniella Isamit Morales, Mousse, Yuri Ancarani, Nero, Nicola Pecoraro.
Grazie a Giallo Concialdi di Anonima Nuotatori per il video!
Chadal vola a Parigi. Alla Maison Rouge in mostra il progetto sardo-senegalese di Cherimus 
Il volo di Chadal continua. Partito in Sardegna all'inizio del 2011, il progetto Chadal si è sviluppato fra il Senegal e l'Italia. Un progetto di cooperazione culturale, che ha portato alla nascita di un gruppo musicale sardo-senegalese, ad una tournée nei due Paesi, ad un disco, a un cd documentario, a una rivista e a numerosissime iniziative artistiche di livello internazionale.
Oggi tocca a Parigi, negli spazi della Maison Rouge (Boulevard de la Bastille), dove è ospitata la mostra "Le associazioni libere" (dal 20.10 al 13.01.2013, vernissage venerdì 19, h19), come una fotografia di tutti i migliori gruppi di artisti indipendenti italiani.
Nello spazio della Maison Rouge, al centro della mostra della collezione della Fondazione Setari, la Dena Foundation for contemporary art, ha infatti chiesto a Chiara Parisi e Nicola Setari di proporre una panoramica della scena artistica italiana di oggi, una scena imprevedibile, ma incredibilmente radicale e poetica. La scelta si è orientata sulle riviste d'arte e sulle associazioni indipendenti create da artisti, per poter offrire una fotografia realmente viva e vitale della scena contemporanea, al di fuori del "sistema" istituzionale dell'arte.
E dunque Cherimus presenta il quadro di Marco Colombaioni I sogni ci guidano ma bisogna agire.
In mostra anche parte del materiale del progetto Chadal: in particolare il lavoro di Michele Gabriele, il più recente, appositamente realizzato per la mostra: 11 sculture di zucchero e terra dedicate a Chadal, una per ogni brano musicale realizzato dal gruppo nel disco; e poi il vinile con la registrazione di un concerto, già presente alla Fondazone Querini Stampalia durante la Biennale di Venezia e la cui copertina è pure un lavoro originale; una copia della rivista DAKAR, realizzata durante il viaggio e il cd documentario del progetto, con musiche e voci dal Senegal e dalla Sardegna. Ecco l'elenco completo dei lavori di Cherimus presenti in mostra:
– I SOGNI CI GUIDANO MA BISOGNA AGIRE di Marco Colombaioni, 2007, olio su tela, 230 x 140 cm
– SENZA TITOLO (piccolo stormo di zucchero e terra dedicato a Chadal) di Michele Gabriele, 2012. 11 sculture, terra e zucchero: una serie di undici piccole sculture, una per ogni canzone di Chadal.
– DAKAR (rivista) un progetto di Guido Bosticco, Guido Mariani e Vince Cammarata, 2012. Numero 13 di un magazine che non esiste. Tiratura limitata (200 copie) di una rivista "totally fake". Ma con contenuti assolutamente veri.
 – CHADAL: live in Dakar di Matteo Rubbi, 2011. Disco in vinile. Registrazione live del primo concerto di Chadal.
 – Copertina ICI DAKAR ET LA SARDAIGNE! di Marco Colombaioni, con Abdoulaye Cysso Mane, Matteo Rubbi et l'Espace Enfants de la Maison de la Culture Douta Seck. Foto Vince Cammarata/Fosphoro.
(english below)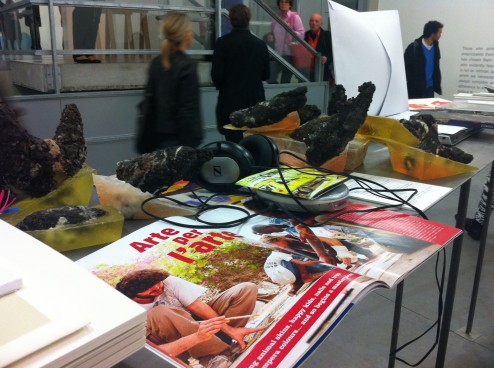 2 pagine del catalogo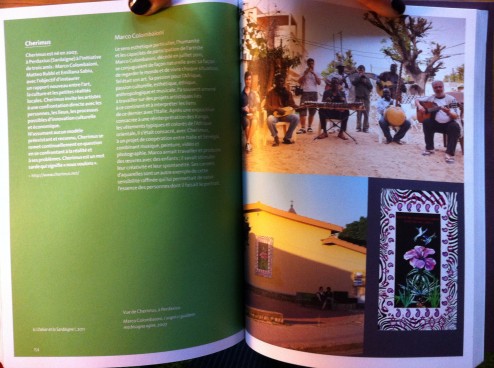 Michele Gabriele e Yassine Balbzioui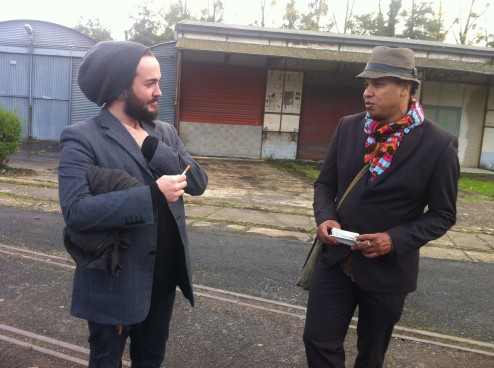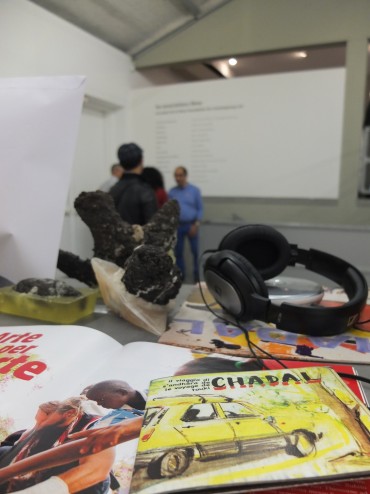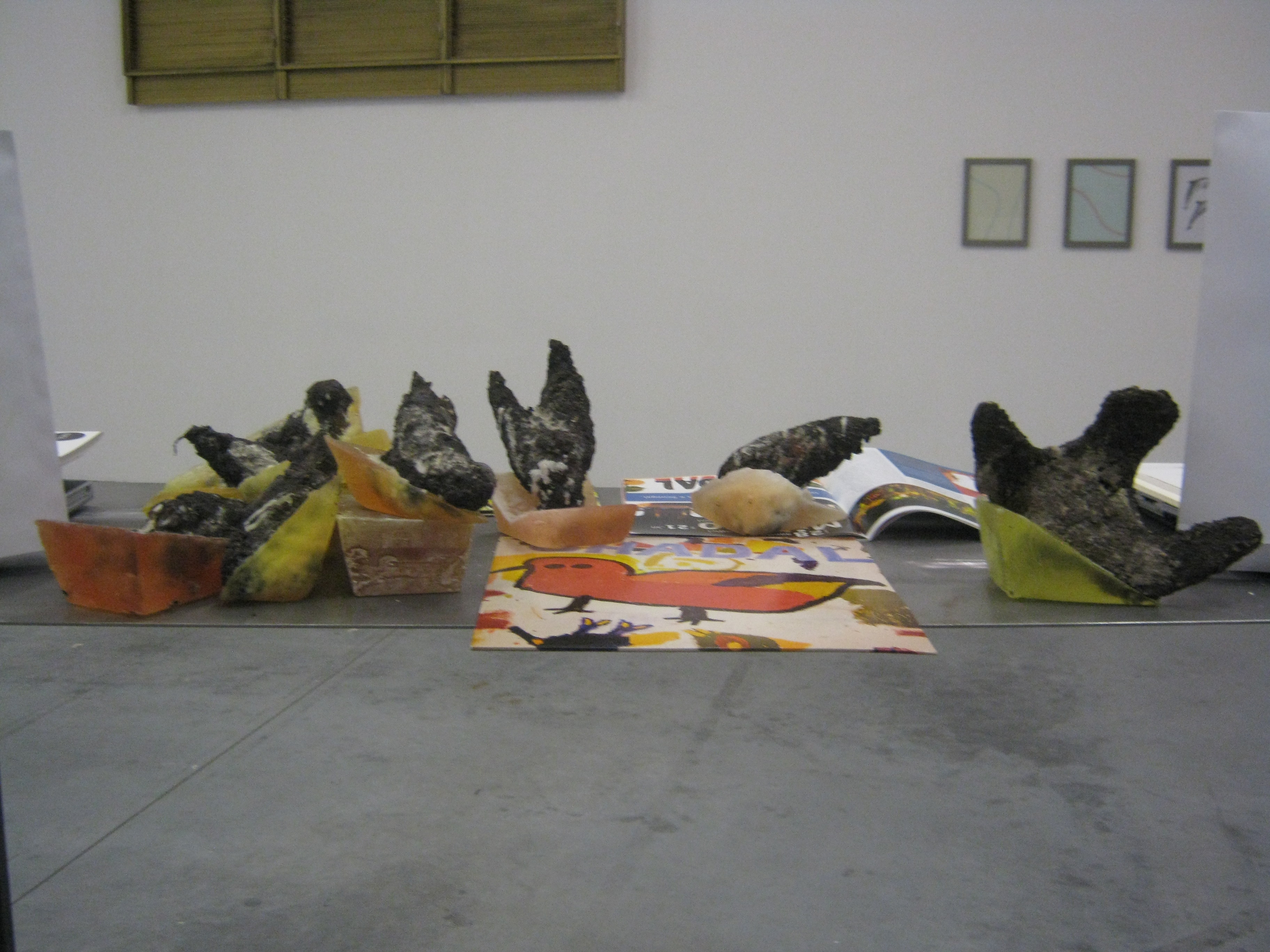 Within a space inside La Maison Rouge, surrounded by the exhibition of the Setari Collection, the Dena Foundation for Contemporary Art asked Chiara Parisi and Nicola Setari to propose a presentation of the Italian art scene today. Italy's contemporary art scene is rebellious and unpredictable. Attitudes are remarkable, powerful, but also astonishingly radical and poetic. A 'national' approach could not convey its full diversity hence "Le associazioni libere" [free associations] takes a different angle. It invites independent, artist-run-spaces and magazines to show this diversity and alternative projects happening alongside or concomitant to Italian public and private initiatives, and to present their idea of what art can be in a non-institutional context. With the artistic coordination of Francesca di Nardo, this project shows one aspect of the Italian contemporary creation, seen through some of the alternative vectors set up over recent years, and through multiple and ambitious editorial slants. All these initiatives – with their various ideological and political frameworks, often pursuing very different strategies to survive – stand out as a possible heritage left to society by Arte Povera, a movement that reawakened our sensibility by expanding the artistic sphere and practices.

Lucie Fontaine in Milan, Cripta 747, which started out in Turin, and Cherimus in Sardinia are just three of these artist-run alternative venues. Among the magazines, Mousse and Kaleidoscope in Milan, Cura, Nero and Artribune in Rome are examples of the intellectual and editorial outpouring behind this renewal. Thanks to an international connection and unfailing solidarity, Italian artists are demonstrating amazing vitality.

 Established in 2001 by Giuliana Carusi Setari, with offices in Paris and New York, the Dena Foundation for Contemporary Art promotes and develops synergy for Italian artists. Alongside the presentation of the Setari Collection, the project at La Maison Rouge celebrates the inventiveness and creativity with which Italian art expresses its response to all forms of crisis, whether political, ideological, intellectual or indeed artistic.

Curated in close consultation with the structures, magazines and in particular artists, Diego Perrone and Christian Frosi, who based their design for the exhibition on their first-hand experience of these systems, the project shows recent works and special commissions.